Recent News
Search Options ►
MDT Design Feature
Site Update



The Metal Design feature has been opened for artist application. If you would like to be an artist for MDT, you can apply here: click.

MDT pays $3.00 a design and the job encompasses coloring the base or PSD the player provides to you. Edits are not required. Thus, your examples should be bases that you have colored. The deadlines and expectations are the same as GCC.

The feature will be open as soon as an artist team is put together. Previous owners of Metal Design Tickets will get a chance to submit to the new team for a day or so before the item is re-released.


Staggered Release Dates
Now - 5:00 PM on February 21 -- Previous MDT owners get your tickets in first before the release.
5:00 PM February 21 -- USD Shop
5:00 PM February 22 -- BP Shop
Posted by J.A.K. (#15) on Fri Feb 20, 2015 9:35am

---
The 13th Lunaris has arrived!
Pets
A new birthday Lunaris has appeared!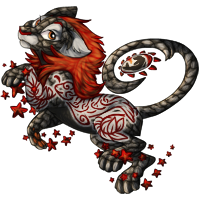 The striking Ash Lunaris is the last in our series of thirteen inspired by Celtic tree astrology and coinciding with lunar months. Those of you with birthdays from February 18th* - March 17th will receive a copy of this feline on your special day as a gift from Aywas when you click the birthday link!

*If your birthday was yesterday or today and you collected the previous Rowan Lunaris but would like the Ash coloration instead, please contact Kyu (#1010) and she will do a switcharoo for you!

The Knowledge Base has also been updated with our latest starry coloration!
Enjoy! <3

(Also, even though the Ash is technically the last in our series, remember that the Alder Lunaris will be returning for Mar 18 - 31, 2015 birthdays before we move onto a new theme.)







Speaking of a new theme, since we will be switching over to a new Lunaris set in April, we are asking for your ideas on what the overall theme should be this year! I've created a thread here in the Think Tank for your input. :3 Staff has a few ideas, but we also wanted to see what you brilliant folks could come up with before making a decision. Looking forward to your thoughts!

- Eri
Posted by Eri & Dew (#17) on Thu Feb 19, 2015 9:38pm

---
Trivia & Weekly Raffle!
Site Update
Weekly Raffle



This week's raffle winner is:
Jaye ZeLLenka (#11951)
Who had 43 crystals out of 15,557 total and won a set of February GP Shop pets!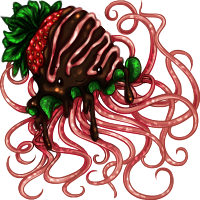 Congratulations!

Next week's winner will receive...







A set of Kirin Trunks!

Set a reminder to snag those crystals!

Trivia





The trivia has been updated!
Last week's questions and answers revealed!

What is the name of the March Monthly clothing base?
Steam Gunner

When will the Holiday Tree be cleared out after?
February 28th at 11:59 p.m.

Which of the following things are account-bound?
both of the above

This Woolith may share some of the treasures they have found in their travels.
Explorer

This Cipula is lookin' for some love!
Kiss Me

How many energy points does the Devil's Kiss give?
5

Tell your friend how much you want them to feel better with the...
Get Well Bear

Show someone how much you appreciate them as a friend with the...
Friendship Bracelets

The Kirin Unitaur trunk is available in all colors except...
Scaled

Which of the following charms has scenery in the item image?
Ryba

How many questions will you get correct this week?
Good luck!

- Eri
Posted by Eri & Dew (#17) on Thu Feb 19, 2015 9:03pm

---
Art Gallery
Contests
Art Gallery



The art gallery has been judged!
The theme was Valentine's Day* and we received piles of lovely entries!

Here are our featured winners: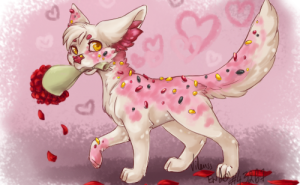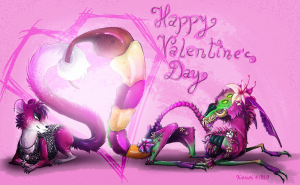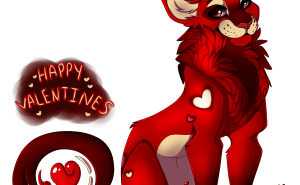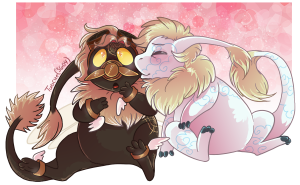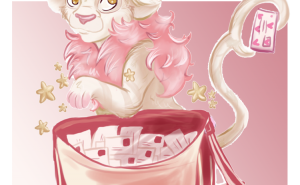 They won:






Congratulations!

The current theme is Chinese New Year!
Any medium is fine, just make sure to keep it Aywas-related in some way as always. :3
Official Aywas stock is not permitted for this theme.

Good luck!

- Eri
Posted by Eri & Dew (#17) on Mon Feb 16, 2015 9:57pm

---
Valentine's Love Fest! (Part I)
Site Update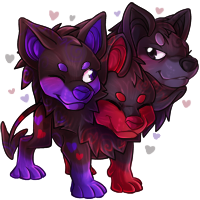 Welcome to our Valentine's Day Love Fest: Part I!
Shop to your heart's content until February 22, 2015 at 11:59 p.m.! Love Letters will remain findable and sendable through this time as well, so you still have some time to catch up on your letter writing. *wink*

However, I invite you to put a pause on the envelope-licking for a few moments to take a gander at the lovely wares stocking the Seasonal Shop shelves.

Let's begin with the best thing about Valentine's Day--indulging in punny foods and sweet treats!
(Is that everyone else's favorite part? No, just mine?)







Introducing Hot Sauce, a Stud Muffin, Cupid's Float, and the Latte Love Cup--all of which are either delectable energy or hunger foods.






For those of you who need a little liquid courage, we have two new flavors of alcohol--the Tainted Love Shot and Drunk in Love. We are not responsible for your actions after consuming either of these beverages.

Take care to eat and drink carefully, though, because you don't want to get anything on your new outfits!





If you're going out on the town, you might like the Lovebird Trunk, which contains the following items:









The 5-piece set includes shoes, a shirt, pants, a dress, and barrette and can be previewed here.





For a more guarded look, try out the Protected Heart Trunk, which contains the following 3-piece armor set:







You can preview the mask, legplates, and chestplate here.






If you want even more defenses against the love bug, arm yourself with either the Cute Koaf Shield or the Emotional Shield! One disarms foes with cuteness, the other stops feelings in their tracks! Visit the Item Database for full stat details.





Looking for the loyal, unconditional love of a pet instead?
Cuddle up with one of these new affectionate fauna! Above we have a pair of Tangled Giraffes, and below we have a set of Dolphin triplets!







The default Dolphin, along with the Blue and Pink variations, are sure to make a big splash in the sea of love!





One of our most recognizable pets has been transformed into a stuffed version! The AWOOGA Melo Plush will unlock the forum title "AWOOGA." *waggly eyebrows*





Similarly, the Paper Fortune Teller--a very scientific predictor of one's love life--will unlock the forum title "Cootie Catcher."





If your pets aren't afraid of catching cooties, they might be willing to give the Vintage Jar a go!
(Just kidding, everyone knows Aywas pets don't have cooties.)

He's got style, she's got grace, and you can be just as elegant or dapper with this add-on! This antique jar of magic will bestow BC and HBC offspring with delicate, fancy edits like lace, ribbons, and other ornate and luxurious items. Be sure you know how to strut your stuff on the catwalk with all that style -- only the most polished are bestowed such timeless fancy.





An old, but good book worth rereading has returned! The Love Story is once again available for purchase.

The Love Story is a breeding add-on compatible with MBC, LBC, BC, and HBC breedings. This book tells the artist to cute-ify the offspring! MBC and LBC babies are eligible for a Valentine color palette; BC and HBC offspring can have cutesy edits and V-day colors! Thematic add-on: Max two different themes per breeding.





We have also brought back a familiar elixir--the Love Potion #9--but its flavor seems to have changed a bit. It seems two additional alternate linearts have been added to the formula!

Meet your new alt V-Day Heggal and Plio!




(Click the images above to download the corresponding PSDs.)
Remember, Love Potion #9 is an alternate lineart custom creator that allows up to 50% edits, so have fun!





Feeling a bit playful? Try pulling out some of the ribbon above!
The Red Ribbon Bottle will turn your active pet into one of 6 exclusive colorations not found in the Seasonal Shop. (All six pet options are listed in the item description and noted in the Aywapedia, but I won't post them here in case you want to be surprised. n_n)


On a quest to fill your lair with even more pets?!
The Seasonal Shop is stocking 24 love-themed, punny creatures for your collections.

Below is a little sneak peek of the group you'll find inside the shop. :3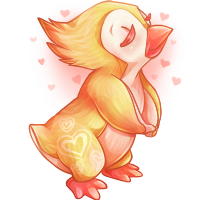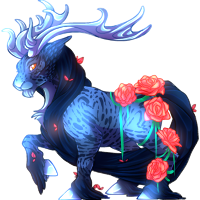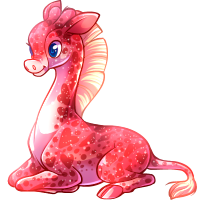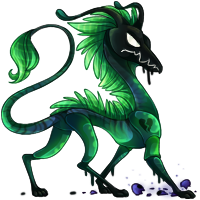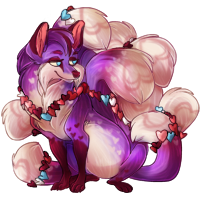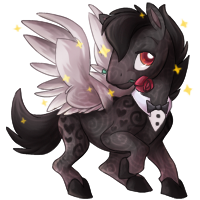 Need some help with your pet collecting?
Stop by the Trash for Treasure shop to trade in some of your TP for a Melting Heart Potion!





When used, this melting glass bottle will change your active pet into a random coloration from the store. Bottoms up!





To help with your Love Letter swapping efforts, we have put the Stack of Love Letters in the GP Shop at 1 GP. The stack contains 3 individual Love Letters.









You might have noticed that I mentioned this was Part I of our Valentine's Day Love Fest.
Keep an eye out for Part II and our Love Spectacular Finale (on the 22nd) with giveaways and 24-hour stock of a couple coveted items, in addition to limited stock of others. You've been warned, so plan your spending accordingly!

(Oh, and those cute fruits up there--Love Pink Grapefruit and Love Kiwis--are permanent additions to the site and can be found in Energy Dishes when in stock. Enjoy the latest squeeze!)




Happy Valentine's Day!
We hope you continue to have a love-filled month on and off Aywas with your friends and family. <3
(And don't forget to participate in the Love, Aywas thread!)

- Eri
Posted by Eri & Dew (#17) on Sun Feb 15, 2015 9:19pm

---
Seasonal Shop Warning!
Site Update



This is your standard reminder to NOT make any purchases in the Seasonal Shop while we are stocking it.
Items and pets can change price and/or function prior to the official opening of the shop, and we will NOT issue refunds for any premature purchases.

Thank you!

- Eri
Posted by Eri & Dew (#17) on Sun Feb 15, 2015 7:16pm

---
Happy Valentine's Day!
Site Update
Happy Valentine's Day, good lookin'!





The Seasonal Shop will be opening its doors tomorrow evening, but in the meantime you can get started on this year's Love, Aywas thread--where you can "send" (read: post) a valentine to the site that mentions something you adore about Aywas.

You just might be one of the lucky few to be visited by the Adore-a-Gram Lunaris, who has more than Love Letters to give out. *wink*





- Eri
Posted by Eri & Dew (#17) on Sat Feb 14, 2015 9:37pm

---
T4T: Valentines Edition
Items
A gazillion apologies to everyone - I accidentally slept through most of Valentine's Day =O
However these lovely people were prepared and have items waiting for you in Trash for Treasure!

First is like HA item from Gwennafran (#22320):



"Valentines Day is the international awareness day for people born with a Congenital Heart Defect (CHD). Every year, children are born with heart defects, that may very well end up affecting them for the rest of their lives. Wear this cute red ribbon hair clip to show support for those literally born with a broken heart."

The hair clip will be available until 11:59pm February 15th.


And another HA item from Shaddeh & Alice (#41519)



This adorable gift to you will be in stock until 11:59pm 28th February!


I hope you have a fantastic weekend whether you celebrate Valentines or not <3
Posted by Eveglori (#2775) on Sat Feb 14, 2015 8:38pm

---
Free Custom Winners!
Contests



'· .¸¸.·´'· .¸¸.·´ [[ The w i n n e r s' edition! ]] '· .¸¸.·´'· .¸¸.·´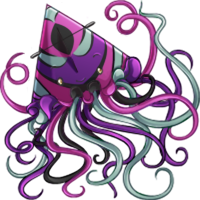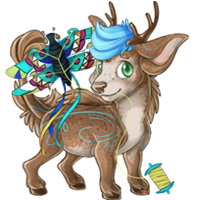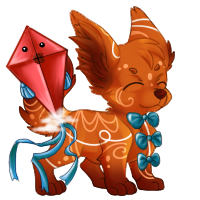 1................................................2................................................3
Ahn Woon (#47) | 58 votes .......... neheshe (#61954) | 38 votes .......... Meesh (#16588) | 34 votes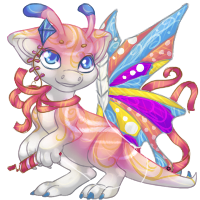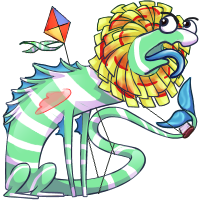 4................................................5................................................6
Typical Aquarius (#65129) | 109 votes .......... Alera (#157) | 86 votes .......... Mavric (#6342) | 37 votes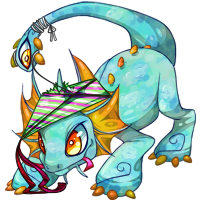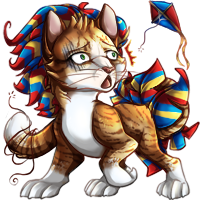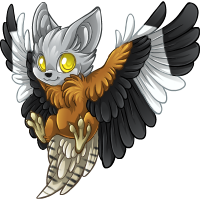 7................................................8................................................9
The 3 Dorkbutts (#32371) | 33 votes .......... Midnight (#20642) | 105 votes .......... Wolf D. Plasma (#25989) | 81 votes

Congratulations to all of our winners!
I will be sending out your customs momentarily.

See you next month for another round!

- Eri
Posted by Eri & Dew (#17) on Fri Feb 13, 2015 10:49pm

---
Premium Item - Koaf Cabinet
Items



The premium monthly item for February is a Koaf Cabinet. This magical item has an endless supply of Koaf Pan ingredients inside and will yield one of these items at random when used--and regenerates once a week.

If your premium expired between the 1st and 13th, please PM me with "Premium Item" in the subject line and I will see to it that you get a copy of the item. :3

Thanks for your patience!
Free monthly custom game results coming up next!

- Eri
Posted by Eri & Dew (#17) on Fri Feb 13, 2015 10:26pm

---