Recent News
Search Options ►
Countdown
Pets
until blast off!


You'll see it on the top of every page now. That's how long you have to wait until this obnoxious lag goes away because everything will be 100% recoded from the ground up. =)


Not to mention when we have the new base Aywas finished, we'll be adding tons of new features to every city in the Explore map (oops, did I spoil a surprise? :) ) like nobody's business. Huzzah!
Posted by Jack (#1) on Tue Dec 1, 2009 3:23pm

---
December
Pets
Did you win NaNoWriMo? Post here with a link to your thread to claim your prize.






Dear Premium Members,

Enjoy your new monthly item.

Love,

Slash


Candy Canes, Advent Calender, Random Event Presents, and Tickets have been enabled. Have fun!



BJ and I will be judging the December contest soon so the Fireworks Melo will be leaving the cash shop sometime today (December 1st).
Posted by Jack (#1) on Tue Dec 1, 2009 12:12am

---
Stockings 2
Pets
Don't use stockings to send junk items and spam (eg: "asdasada") to someone. In addition, don't use stockings to send hurtful messages.


Is your stocking contribution meant to make the person happy? Yes? Good, then you're fine. But looking through the records and seeing examples of the above is quite the holiday season killer.




Flame Custom Orb
Posted by Jack (#1) on Mon Nov 30, 2009 10:36pm

---
Stockings
Pets
You can now shove items and associated notes in people's stockings. The stockings are on their profile.





I don't have a stocking image at the moment because I haven't gone through Xmas items, but I did take the time to draw this beautiful illustration just for you. I'm sure you'll see it in the Louvre pretty soon.


You can open your stocking on Dec 25.





Breeding Coin
Posted by Jack (#1) on Mon Nov 30, 2009 5:54pm

---
Winter Season
Pets
As we move toward the winter season, I'll briefly touch down on a few of the festivities that will be coming (aside from Aywas v2!).






These will be floating around every 15 minutes. They're like pumpkins - claim them to spend in the Seasonal Shop when it opens a week before Xmas!






this is the "rare" gift bag. You might find them floating around the site, or in the Advent Calender (don't forget to go every day of December!)






This is the "Super rare" gift bag. Methinks it has something to do with asking Santa for what you want.






Mini-Present! You'll find these in the advent calender a lot. They'll give you a random Christmas item.


You won't get to see which items you get until the presents activate on Dec 25, though!



The Bigger Xmas Feature




Claim Ticket.

You will be living there all of December. Every hour starting 12 AM December 1 through 11 PM December 24, you can go to that page and claim a ticket.


On December 25 (or sometime after, not too long though) a couple of tickets will be pulled from the pile and prizes will be awarded. Such prizes include:

Nice Prizes: Lesser Breeding Coins, Breeding Coins, Glittering Rocks, Custom Crystals, Pure GP, Custom Art (art events)

Grand Prizes:






So, how much will you stalk the claim ticket page?



Happy Holidays from Aywas!
Posted by Jack (#1) on Mon Nov 30, 2009 2:25pm

---
Festive Recolor
Pets
So as December is pretty much here, the holidays are spreading cheer among the land of Ay, and as v2 is making it's way around we're kicking the Christmas spirit into gear by debuting the new way recolors of current pets will be changed.


How this will work is a site wide poll will be held that will stay up for 3 days (our trial version will only run for a day), with the old color version displayed and the recolor version displayed and we will ask the users to please vote whether or not they would like to see the pet updated. In order for the recolor to be implemented, the poll results must be at least 60%/40% vote split in favor of the recolor. I would also like to add that from now on, when we upload new recolors, you will not have the option to request the original version.



So here is our test run, the Festive Melo. The poll will end on December first at 12:00 am!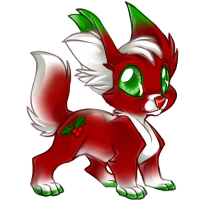 Old Version vs New Version


Posted by Jane & Snow (#19) on Sun Nov 29, 2009 11:42pm

---
Flash Games
Pets
We just hired a flash game programmer. Please let me know what sort of flash games you'd like added to Aywas (be specific, the more specific you are the more it can help us).


Note: Please don't say "a game like __insert competitor's game__".
Posted by Jack (#1) on Sun Nov 29, 2009 6:26pm

---
Custom Crystal Changes
Pets


Gold Custom Crystal
This crystal will allow you to create a custom with 50% - 75% lineart changes!

So as some of you may have noticed, we've changed the price of one of the crystals as well as set up some new rules and regulations.



We're closing in on 1,000 custom pets and gen2 offspring, and have decided to take the information we've gathered from this and put in place our final decision on how to offer crystals and what should be expected of each one.



Please visit the new Custom Crystal Rules and Guidelines thread to read over the new regulations if you haven't already. You'll also find that the Request Customs thread has also had a small change.



I apologize now for any inconvenience this may cause for those who were planning customs that may not be done yet but have already purchased crystals. If you wish to upgrade you may message Beeejaay #19 for a GP refund for your blue custom crystals. These new rules do not apply to customs that have already been submitted (the queue is now clear so all new posts are up to date).


If you'd like some more reasoning behind the change and a bit of a better explanation as to why these changes were implemented, view Slash's post on this thread.
Posted by Jane & Snow (#19) on Sun Nov 29, 2009 3:06pm

---
Whew...
Pets



It seems these have finally died down. Good job catching them!



But there's still something eerie about that Malevolence Melo...
Posted by Jack (#1) on Fri Nov 27, 2009 11:14pm

---
Thanksgiving
Pets



I probably won't be around tomorrow, but for those of you who will be, be sure to pick this up at the Advent Calender at exactly 12 midnight. It's an unlimited use food item that only works on Thanksgiving =)


Cheers, and don't forget to spend time with your families ;)
Posted by Jack (#1) on Wed Nov 25, 2009 3:27pm

---