Knowledge Base


| | |
| --- | --- |
| Main - Answers to the most common Aywas Questions. | |

---
Human Avatar Overview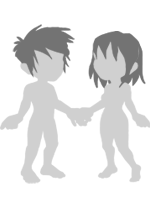 Human Avatar Overview
Your Human Avatar (commonly referred to as "HA"), will accompany every one of your forum posts and will be visible for you on the top left of every page. Although HAs cannot be deleted, you can disable HAs under your Account Settings. The main HA features can be accessed by clicking the "Switch Human Avatar" button on the left.

Before you begin dressing your HA up, you need to create a base Avatar in the Salon. The Salon provides you with multiple options in regards to the base's skin tone, mouth, eye color, hair style and color, and eyebrows for your HA, as well as a choice for its gender. Your first makeover will be free, while every makeover afterward will cost 5,000 BP.
---



Finding and Adding Clothing
Once you have your base ready, it's time to go shopping for clothes! When you're first starting out, the best places to obtain clothing are Colette's stores: Ye Olde Clothing Store and La Boutique! Additionally, there will be clothing in the BP Shop, GP Shop, and Premium Purchases for a limited time due to a monthly clothing contest hosted in the Events forum.

After you've made your purchases, you are ready to put them into your Wardrobe, which is located under the Account tab of the site! To add an item, you must go into your Inventory and select the clothing item that you'd like to move. Please note that once you select "Move to Wardrobe," you will not be able to remove it from your Wardrobe without the use of a special item! After you've moved any and all of your desired clothing items into your Wardrobe, you can select which items you'd like to assign to a layer slot. You may only have one item per layer slot.

It's always good to try on clothes before you purchase them, right? You can use the Preview Wardrobe feature to try on any clothing item available onsite. It also includes a Salon which you will have to use before looking for clothing, as you can't preview anything without a base to put it on.
---



Expanding Your Wardrobe
If you like adding accessories to your HA, you will soon find that the 5 layers you are given for clothing at the beginning will not be enough for your needs. Layer Keys, when used, will each unlock a new layer for your wardrobe. Using Layer Keys, you can build up to 25 layers to dress your HA! Feel free to drop by the BP Shop to pick one up whenever you need.

Drawers are used to organize clothing within your wardrobe and be accessed on the Manage Drawers part of your Wardrobe. By default, you can create and name up to six drawers, while Premium Users have up to twelve. An additional set of eight can be unlocked by using Building Boards.

In order to remove items from your Wardrobe, you will need to activate a Scroll of Transportation, which will permanently enable the feature. Any clothing removed from your Wardrobe will be placed back in your inventory.
---
My HA won't update!
Don't worry, it does, but you're the only one who doesn't see it. All you need to do to make the change show up in your browser is hit the F5 key.
---
Additional Articles You May Find Useful

Custom HA Sets and Skins


Custom Item Submissions


HA Doll Bases


Monthly HA Clothing
Tags: Human Avatars - Newbie Resource -