cccc
Back to Genus Guide | Cerby in the Aywapedia
Cerby
Information about the Cerby species.
Description
These three-headed dogs guard the entrance to Ara's hell-like region. If you're skillful, and perhaps a bit mean-hearted, you might get one to join with you as a loyal pet.
Information
Customs can be made by using an Ashen Custom Orb, Flame Custom Orb or Nova Custom Orb. A Christmas/winter themed custom with no edits can be made by using a Holiday-Colored Coal.
Taxonomy and Evolution
Behavior and Habitat
Mythology
Alternate Lineart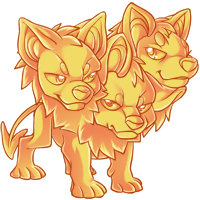 Alternate
------------------------------------------------------------------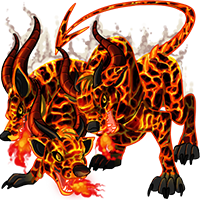 Halloween Concoction #13
---
No comments yet