cccc
Back to Genus Guide | Ganchuan in the Aywapedia
Ganchuan
Information about the Ganchuan species.
Description
These chubby cherubs would much prefer to sleep and eat than to fly around.
Information
For the first three months of their existence on site, customs were obtainable through using Raw Metal Crystals, Raw Blue Crystals, and Raw Gold Crystals. The pet is now retired and can only be made with Antiquity Staves. A Christmas/winter themed custom can be created through the use of a Holiday Raw Crystal, regardless of whether the pet is retired or not.
Taxonomy and Evolution
Behavior and Habitat
Mythology
Alternate Lineart
400x400 PSD
------------------------------------------------------------------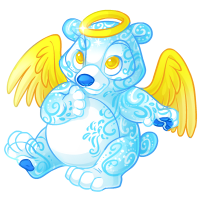 Winter Warmer #25
---
No comments yet