News
Search Options ►
Slashbot Presents: Holiday Pet Exchange
Random Silliness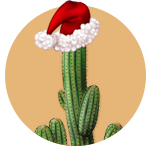 It seems that the Slashbot is nowhere to be found! However, as you look around you realize that there is a note stuck to the spines of Madam Cactus.





If any Meatbags are reading this, I am currently on vacation. It seems one last thing required my attention this year, so I have left this in the hands of my good friend.
Please turn your attention to a very important announcement from a group referring to themselves as 'The Gremlin Crew'.
Slashbot





Brought to you from the crew of Community Auction Day, this Aymas we would like to try a type of mystery pet exchange; add pets to the pot and receive the same amount under the Aymas tree!

There is no minimum skill requirement, anyone of any skill level is encouraged to participate!

Please visit the Holiday Pet Exchange for more details as to how to participate!






There are also Non-Participant Challenges for those who cannot participate in the main exchange, so everyone has a chance to receive a new friend these holidays!

Extra pets submitted to be used in these challenges can earn the submitter some exclusive holiday PSDs by Liv (#714) and Tooki (#42928)!


Posted by Slashbot (#3) on Fri Nov 27, 2020 10:04pm

---
[ 1 ]
[ 1 ]