News
Search Options ►
Welcome to May 1.5
Site Update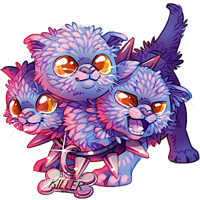 "Oh no, watch out for this purr-ocious monster!" - KiRAWRa (#11849)









Unfortunately as you have most likely noticed our remaining 2 jeweled artists have not been able to complete their sets in time. So for the month of May you are welcome to create any base from a previous May set! You can view all the bases in their respective Knowledge Base articles: Jeweled Crystal, Jeweled Hybrid Crystal, and Jeweled Rare Crystal.


If you are looking to join the ranks of our Jeweled Artists please visit the thread and post your examples!






The Sketch Coin team is looking for artists!



Sketch artists get to work with a great variety of different pairs; land-air-sea and even more, frilly or elegant, scary or cute.
It's also perfect work for those artists who feel like editing or colouring is not their thing, and would rather run wild with entirely new beasts of their own design.

Lists are 1-5 pairs to be completed every 7 days.
14 GP per pair, or 21Credits for those who'd rather have that.

For more information on how to apply for a position you can take a look on This Forum Topic.

For Artist Credit information you can read more on this Knowledge Base article.
And if you need a refresher on Sketch Coins check this Knowledge Base article
Posted by 🐼Kaiyo🐼 (#489) on Sun May 5, 2019 1:06pm

---