News
Search Options ►
Valentines is coming to a close!
Events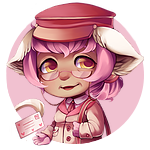 "Don't forget, dearies, that I close my shop at 11:59pm tonight! If you still have letters to send, and points to spend, keep that time in mind!

I hope you enjoyed yourselves, I have adored every minute with you all."

-----------------------------------

And with the change of the clock, the event ends.

Thank you for another wonderful Aylentines, and here's to a good March!
Posted by Eve (#2775) on Thu Feb 28, 2019 7:38am

---
[ 1 ]
[ 1 ]