News
Search Options ►
Love Is In The Air
Events





Welcome to February, the month of Love Letters!


In all Adventure areas you can now collect Love Letters on your travels. You can also find them stocking in The Corner Store.

What are you meant to do with them, you ask?

Why, you send them to each other of course! And in doing so you reap points that you will be able to spend later in the Seasonal Shop.


Each letter sent to a unique ID will gain you 1 point.
Each letter received from a unique ID will gain you 1 point.

For example, if I sent a Love Letter to Kaiyo (#489) - we both receive one point. If she sends me one back, we both get another point!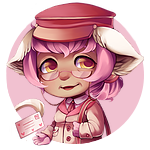 Eryn is warming up to deliver all of your sweet nothings to each other, and once she's done her stretches we'll have sending enabled.

The shop will open on February 14th and will close 11:59pm February 28th.

That gives you two weeks to start gaining points, and two weeks to get more if there's something in the shop you just must have!


Happy Valentines to all!
Posted by Eve (#2775) on Fri Feb 1, 2019 12:05am

---