News
Search Options ►
Aywa-splosion
Pets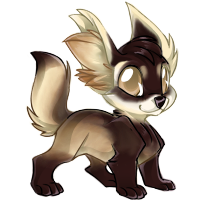 The first aywa-splosion has occurred; naturally, we shall greet these new aywa with my announcing that the first ten people to post which new aywa they would like shall have their wish granted. :P


Let's welcome...


Gaels:

Blue Ringed Octopus, Coelacanth, Orca


Insi:

Orchid Mantis, Spiny Flower Mantis


Melos:

Andean Mountain Cat, Angora Rabbit, Bernese Mountain Dog, Black Pawed Ferret, Burmese Cat, Caracal, Cavalier Spaniel, Collie, Festive, German Shepard, Giant Ant Eater, Giraffe, Grizzly, Irish Wolfhound, Keeshond, King Cheetah, Meerkat, Okapi, Polar Bear, Raccoon, Ring Tailed Mongoose, Silverback Jackal, Skeleton, Snowshoe, Sugar Glider, Zebra



Reves:

African Gray Parrot, Bleeding Heart, Hyacinth Macaw, Cassowary, Chicken, Cuckoo, Eastern Bluebird, Harpy Eagle, Hooded Pitohui, Loggerhead Shrike, Quetzal, Scarlet Robin, Manchurian Crane, Great Hornbill, Secretary Bird, Solar, Swan, Takahe



Soli:

Carrikeri, Gold Dust Day, Harlequin Frog, Leopard Gecko, Marbled Salamander, Peruvian Rainbow Boa



Vynes:

Parrot Plant




As always, big round of applause to our artists, and message me with your created species and the gender you'd like your copy to be. Keep producing those awesome new colors!


All new entries are viewable in the Aywapedia!
Posted by Jack (#1) on Sun Oct 4, 2009 1:15am

---