News
Search Options ►
Finxy Cat, Mew mew mew mew mew
Pets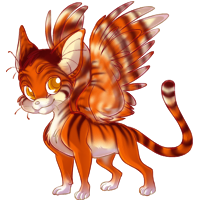 Tigerbird Finx


Many of you have heard talk of the other side of Ay. One of the pets that walks those unknown lands is the Finx. We might not be ready to release the other side of Ay yet, but we're going to be releasing the PSDs to these pets one by one to accept colorations for when the other side of the world goes live.


The Finx is a species whose colors should blend the designs of a mammal and a bird. That one up there isn't a good example because that was just Xero experimenting on melos and reves (it is purdy though), but good examples would be:

- Leopard Hawk

- Tiger Osprey

- Panda Eagle

And so forth.


The Tigerbird is indeed the first of the Finx species and will be the only Finx coloration released before the other side of Ay becomes accessible. You can thank Xero for that. Due to the rarity of these creatures, he'll be handing out ten of them of random genders. If you would like to take your chances getting one, post your favorite thing about the Finx species. Winners will be randomly selected from the entries (no double entries, one news comment per person, please).


You can submit Finx colorations and download the PSD here.
Posted by Jack (#1) on Thu Jan 21, 2010 1:01pm

---