Recent News
Search Options ►
Easters End
Site Update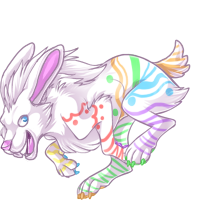 Time to wrap up Easter! So, how about we finalize the winners for all of the contests?








Since there is so many the winners, names all link to their entries so everyone can enjoy them!

Easter Storytime
1st place: Marjo (#5741)
2nd place: Bulbasaur (Pdw) (#36114)
3rd place: Admiral (#55523)
~~~~~~~~~~~~
Aywas Virtual Egg Coloring Contest
Most Artistic:
1st place: jaeliryn kaeri (#458)
2nd place: Bayleef (Tobylover) (#24557)
3rd place: Madara (#70796)

Most Original:
1nd place: Aza + Ender [LL's!] (#42131)
2nd place: Pachirisu (Teilchen) (#34278)
3rd place: Cosmos (#25837)

Most Colorful:
1st place: Loveless (#19023)
2nd place: Zeodyme (#13865)
3rd place: *JACKAL* (#34396)

Aywas-related:
1st place: Pepperly (#10340)
2nd place: Kanarichan (#54072)
3rd place: Tin & Bloo (#9)

~~~~~~~~~~~~
Color an Egg: Paper Edition
Most Detailed
1st place: kemp (#33337)
2nd place: Shawnee (#10597)
3rd place: flightless (#729)
Most Creative
1st place: Tat (#1694)
2nd place: ★Nilaa★ (#5880)
3rd place: shiya (#32813)

Most Colorful
1st place: Larka26 (#24846)
2nd place: bd84 (#2783)
3rd place: Arkonsel (#388)

~~~~~~~~~~~~
Dye an Aywas Egg
Most Detailed
1st place: Mad Hatter (#10278)
2nd place: Ivory Ebena (#43812)
3rd place: chloe-k <3 Squirtle (#45288)

Most Creative
1st place: Cornflower (#6750)
2nd place: ❥❥Delle❥❥ (#96)
3rd place: Kandria (#293)

And we have two honorable mentions, who actually placed in 2 contests, however we felt it wouldn't be fair so we put them in the contest they would have ranked highest in. These users will win a special prize on top of their other wins.
Pachirisu (Teilchen) (#34278)
Tat (#1694)


Congratualtions to the winners, prizes will be sent out shortly!









For the final wrap up, everything will close tonight at midnight. The Easter Field will stop allowing you to drop eggs in, and the Seasonal Shop will be emptied, so make sure you spend those points! The Easter Pets hiding in Adventure are also going to be leaving if not tonight then really soon, so make sure you grab them up!
We hope that you enjoyed the Easter Event, and new Alt Vion!!

*Payments for the Easter Submissions should have all gone out today*

Edit: Added the links to the story contest, not sure why those vanished. Also we are aware the Easter Field did not close as planned, so please continue to enjoy it until it does close!




Since this post is a little long I also want to remind everyone that the Mystery Box is open, there will be Mayday Teos (applications open up on April 16th), and there was also some exciting news about Adventure, so make sure you read the previous news posts!
Posted by 🎁❄Kaiyo❄⛄ (#489) on Wed Apr 13, 2016 10:20pm

---
Adventure Updates Round 2!
Comics







As noted in an earlier news post, the default Hidden Item skills weren't correctly working for some of the more recent genus. I am happy to report that all genus should now have an assigned default Hidden Item Skill! As stated before, this correction applies retroactively to all existing pets.

This isn't the only update!






We have officially revamped the EXP regarding adventure battles. We changed not only the EXP required to level, but also the EXP earned per battle. While it will still take you time to level up your pets if they're high level, it should no longer be so intense as to discourage players from attempting to level up the pets they desire. Hopefully adventure can be a little more fun to play with now! :D

Of course, this is not the end of our Adventure work and fixes, but I hope you guys enjoy these updates as much as the coder and I do! If you encounter any problems, please head over to this thread and let us know!

That's all for now! Please be sure to check out the news post below regarding Mayday Teos, Mystery Box tickets, Alidae and Emaia Seeds, and more!
Posted by Hiiro (#755) on Wed Apr 13, 2016 6:53pm

---
Out with the old, in with the new
Site Update





Do you remember the SCCs placed in the USD Shop? It's about time to swap them out for some new ones so if you'd like to have an SCC in the USD shop, you have one week to post your submission on the thread :)

We'll be going through the existing SCCs and paying out any remaining royalties, then removing them on April 20th for the new ones. But we definitely need some new ones first, so have fun making them!

Oh yeah, and if you want a last minute one, go grab it!








Did you miss the bonus items that were up for sale? We've popped them back in until April 14th 11:59 PM so you have about a day and a half to grab them if you meant to.

But what if you need some bonus credit to snag one before they're gone?







Who misses the Mystery Box? It's about time for the tickets to return, so here they are! If you don't remember what Mystery Box tickets are, they allow you to pull a random item out of the Mystery Box and one ticket comes free with every purchase of $5.00.

The Mystery Box tickets will be available until April 14th at 11:59 PM. They'll be funding the first step toward...








Mayday Teos!

If you're thinking about making MayDay Teos, applications for those will open on April 16th for set approval, so now's a great time to get started on sketches and concepts! All sets will be due by May 28th so be sure to plan your schedules around those dates if you want to participate.







We have decided to limit Paintbrush redemptions to $200 a week per individual user. Please be sure to space your large paintbrush redemptions out from now on!
Posted by JAK (#15) on Wed Apr 13, 2016 12:19pm

---
A Couple of Custom Updates
Site Update



Just a quick note: For the remainder of the month I will PM users whose Frozen Clover Necklace or Crystal Crystalis submissions are over their edit amount, so they can give me a design that fits the specifications and not lose their successful custom roll.

However, please be aware that From May 1st I will no longer offer this, and will reject as them, as before.






I'd also like to take this opportunity to remind you that to ensure this isn't a problem you encounter, that the Crystal Check is still running nicely with the checks taking no more than a week to return =) To ensure this fantastic turnaround continues, Kandria (#293) will be officially joining the team as of today!
Posted by Eve (#2775) on Tue Apr 12, 2016 9:32pm

---
A New Raffle has Started!
Items
A new raffle has begun
Metal Takeout Box

Ticket Price: 1
Max Tickets: Unlimited

There is a new Raffle started for Raffle Crystals!

Trivia has Updated
Here is last weeks answers!
This item allows you to choose your one desired artist for your Painted Lesser/Metal Breeding Coin breeding:
Greater Painted Pen
What is the max percentage of edits you can have in a Dragon Lotus breeding?
30%
Which of the following pair will NOT work with the Rusted Breeding Coin?
Simii x Alaroo
To breed hybrids or rare genera with a Painted Metal/Lesser Breeding Coin, you would need to attach this add-on to your breeding:
Painted Gold
How long does it take for a Platinum Breeding Pendant to regenerate?
Three months
Which of these add-ons does NOT allow you to add a third parent into your breeding?
Hybrid DNA
Where must you go in order to breed two pets together?
The Standing Stones
Delicious Eggnog has a _% chance that your pet will enter into a randomly paired breeding with "another pet who drinks too much eggnog!"
10
A Blind Date offspring will be _% edited:
30
What does a Chocolate Breeding Coin do?
Restores 10 points of Hunger
Posted by 🎁❄Kaiyo❄⛄ (#489) on Mon Apr 11, 2016 6:46pm

---
Raffle #111 has ended
Items
Congratulations
Jeweled Hybrid Crystal

singingbadger (#30385) is the winner of the raffle and won the item Jeweled Hybrid Crystal!
singingbadger (#30385) brought 18 tickets, spending 18 Raffle Crystal!
Posted by 🎁❄Kaiyo❄⛄ (#489) on Mon Apr 11, 2016 6:42pm

---
HA Contest Continues!
Contests
The votes were close at first, but then one stormed ahead to giveus our winner!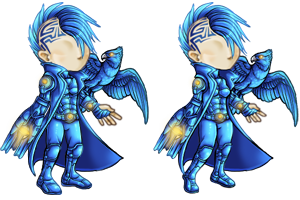 To enter the next part of the contest and colour in the Bounty Hunter base, head over here to learn more!
Posted by Eve (#2775) on Mon Apr 11, 2016 10:27am

---
Spring has Sprung
Site Update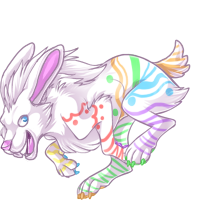 Happy Belated Easter!


This is your official notice that the seasonal shop is now open!


How about we take a gander at what is inside?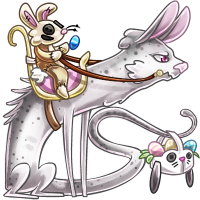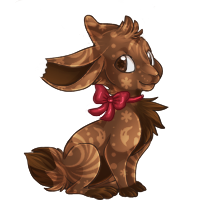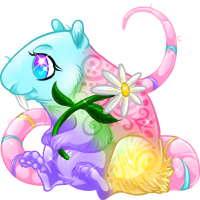 There is a wide variety of new pets that you can take home! Or if you're looking for something even fluffier,
the Random Bunaro Potion will turn your active pet into one of 5 new Bunny Usaro colorations!





*A special shoutout to our coder for being so awesome and helping get the potion working properly*

If you were in the market for something smaller, we've added the Common & Rare EggBuddies, Natural and Rare Buns, Hungry Birds, Wagtail, Ladybug, So the Bunneh, Easter Egg Imposter, Collector Bunny and Legged Eggs Fauna!








Feeling thirsty?





The Yolk in the Shell or Chocolate Liqueur Bunny are right up your ally then! They both grant 5 alcohol points!



If you're wanting something a bit more filling, the Easterbunny Cupcake, Gift-Wrapped Easter Eggs, Easter Cookies and Love Eggs will be what you want








Once the Seasonal Shop has closed we will be stocking the Love Eggs in the Energy Dishes shop.



For those collectors out there we have the Forgotten Egg, the Aybergé Egg, and the Easter Garu Plush.








We also have plenty of new wardrobe items for you to try on! If you would like to test these items please visit the Preview Wardrobe!











The Daffodil Trunk will have you feeling like Fairy Royalty in no time!









The Dandy Lion and Candy Lion Trunks will get you ready for the spring sun!












The Spring Springs Trunk will add a splash of color to every HA



We also have plenty of individual HA items, if you just want a small change in your HA flair!








Holdable Baby Bunny and Baby Chick, Blue and Green Easter Dresses, and the beautiful Signs of Spring Bouquet!

If you want to go play in the rain...








The April Showers sets will keep you dry!


Some old favorites are also making their way into the Seasonal Shop!





The Frozen Clover Necklace has a 30% chance of uploading a 30% or less edited Common genus, while the Crystal Crystalis has a 10% chance of uploading a 50% or less edited Hybrid custom!



It seems as if the Easter Garu brought with him a long awaited friend!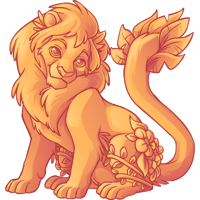 The Alt Vion is now officially released! You can create this Alt with any item normally used to create a Vion!






That concludes our Seasonal Shop release!

On Wednesday April 13th we will close the shop, post the winners for the various Easter Contests, and close up the Egg Field!


Happy Easter!

Note: The Blue Easter Hunter is having some caching issues and may appear as a Doom Bunny Abyss.
Edit: Payments will be sent out this week!
Posted by 🎁❄Kaiyo❄⛄ (#489) on Sat Apr 9, 2016 9:39pm

---
Seasonal Shop Prep
Site Update


This is your friendly reminder not to buy anything from the Seasonal Shop until we news post!

This is my first time loading the Seasonal Shop, and while I am not alone doing it my cohort hasn't stocked the shop in a year, so this is mostly a warning not to buy anything in case we break it <3
Posted by 🎁❄Kaiyo❄⛄ (#489) on Sat Apr 9, 2016 5:28pm

---
HA Basing - Vote!
Contests
Please select your vote.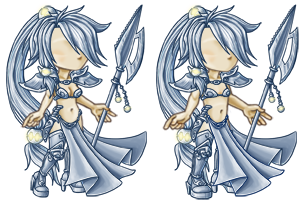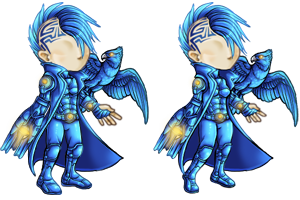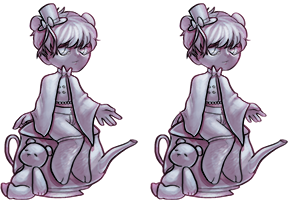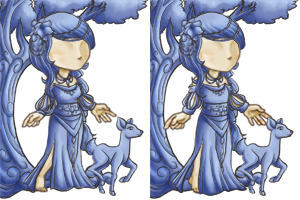 Posted by Eve (#2775) on Sat Apr 9, 2016 10:27am

---