cccc
Back to Genus Guide | Tashian in the Aywapedia
Tashian
Information about the Tashian species.
Description
These small creatures may have a thick exoskeleton, but they don't have a very thick skin - insulting a Tashian could result in a lifelong feud! Thankfully they're also easily flattered, so get some soft sand and create a corner in the tank just for them and they should forgive you.
Information
For the first three months of their existence on site, customs can be made by using Raw Metal Crystals, Raw Blue Crystals, and Raw Gold Crystals. The pet is now retired and can only be made with Antiquity Staves. A Christmas/winter themed custom can be created through the use of a Holiday Raw Crystal, regardless of whether the pet is retired or not.
Taxonomy and Evolution
Behavior and Habitat
Mythology
Alternate Lineart
400x400 PSD
------------------------------------------------------------------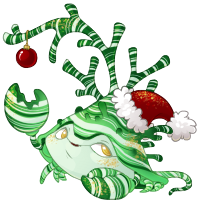 Winter Warmer #25
---
[ 1 ]
[ 1 ]