cccc
Back to Genus Guide | Luiri in the Aywapedia
Luiri
Information about the Luiri species.
Description
It is curious to note that captive-bred Luiri hatch they in full bloom, whereas in the wild they hatch with only small buds. There is no explanation for this phenomenon, though some scientists believe it may have some connection to the nomadic life of a young wild Luiri and it enables them to grow leaves more suited to their final chosen environment. Studies aiming to prove and disprove this theory are currently under way.
Information
This pet can be obtained by breeding a Bumble and a Kernal together with a Breeding Coin. Customs can be made by using a Hybrid Potion, Hybrid Custom Crystal, or any other normal hybrid maker.
Taxonomy and Evolution
Behavior and Habitat
Mythology
Alternate Lineart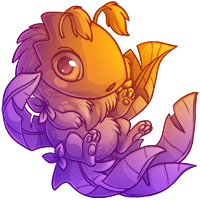 | 400x400 Baby PSD
---
[ 1 ]
[ 1 ]